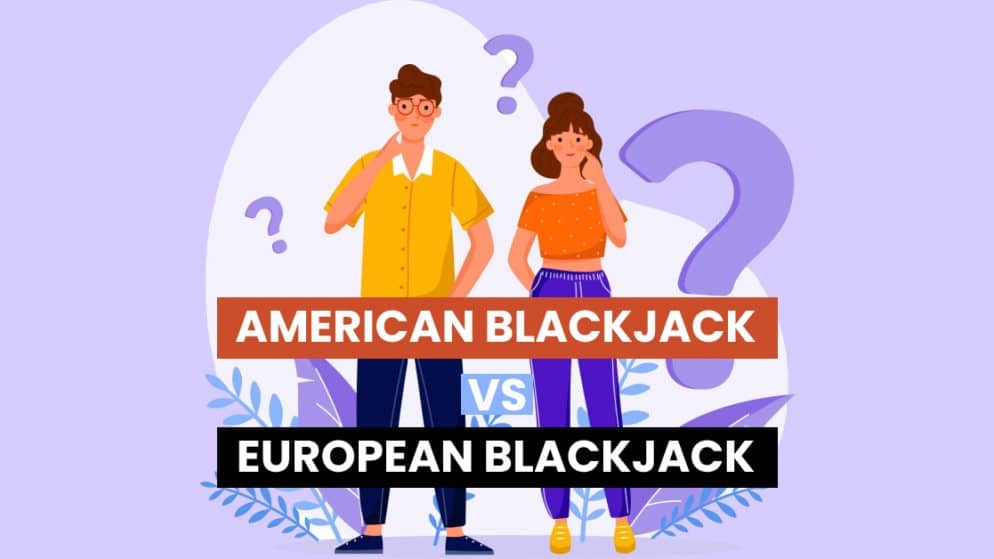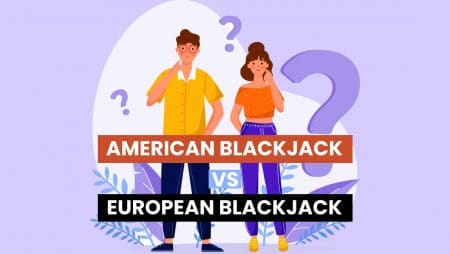 Thinking about the difference between American Blackjack and European blackjack? Wondering which is the best option or which one has the best chance to beat the house edge? Don't worry if these two terms mix you because they are very similar. Let me show you highlight the small details of these two games. This article might help you to chose which is the best option for you.
The Objective of Both Games
European and American blackjack are the two standard varieties of blackjack. Two classic games one can get when it comes to playing 21. All types of blackjack, including American and European blackjack, have the very same primary goal and basic rules of blackjack. To beat the dealer. Getting a hand of 21 or as close to 21 as possible without exceeding it in order to avoid busting and losing.
European Blackjack vs American Blackjack
There is only one card that divides the two variants. Although it may appear to be a minor detail, new players or guest visitors to the casino must know the meaning of the hole card, how it can alter the experience, and how it affects all of the sub-variations based on both American and European Blackjack.
The dealer receives one card face up and one card face down in games of 21 played according to conventional American rules. If the dealer's upcard is an Ace, they instantly look at their hole card. If the dealer's hole card is a 10-point card or a face card (Jack, Queen, or King), the game is over before it even begins, and all players lose their bets.
The dealer receives only one card in European Blackjack games; the second card is dealt only when all players at the table have made their choices and have stood or otherwise busted. As a result, European rules or games without a hole card, often known as No Hole Card games, were created (NHC). Since there is no hole card, there is no way to check for dealer blackjack right away. The drawback is that you have less of an understanding of the cards the dealer has.
A dealer's blackjack can be exposed before we ever have a chance to make additional moves like splitting, doubling down, etc. American hole card rules are much more favourable for players. When we know whether the dealer has an immediate winning hand or not at the start of the game, we can be less careful and more aggressive when doubling, splitting our bets, or committing to side bets. The hole card rule also prevents us from raising our bets and losing more money than we started with, which is always a good thing.
European Blackjack
European Blackjack is one of the most popular blackjack variants played in live casinos and on the internet around the world. Due to the lesser number of decks utilized compared to the other blackjack versions, it has remained popular. The game is usually played with two conventional 52-card decks, but other variations use more or less. In every card game, the lower the house advantage, the fewer decks are used.
Unlike other types of blackjack, the rules of European Blackjack are largely consistent across all casinos. This level of consistency is ideal for players who don't want to be concerned with little differences in each game they play.
The Rules
Double decks and a shoe are always used in European Blackjack.
For blackjack, there is no hole card game, and the dealer does not peek.
The dealer stands on Soft 17.
The payout for blackjack is set at the standard 3 to 2 odds.
It's a push if both the Dealer and the Player have a blackjack.
Any other hand of 21 is always defeated by the dealer's blackjack.
Only a hard hand of nine, ten, or eleven will allow us to double down.
If we split our hand, we won't be able to double.
We can only separate a pair once.
We can split 10-cards of equal value; Queen and Queen, not Queen and Jack.
Aces can be split once.
Surrender is not allowed
When the dealer's upcard is an Ace, insurance is offered.
Insurance side bets are only paid out after the main hand has been dealt.
European Blackjack and its House Edge
European Blackjack has a house edge that is equivalent to other forms of blackjack. Many players prefer it since it is played often with two decks rather than six or eight, and for those who are good at counting cards, the minimal number of decks makes it much easier to keep track of the remaining cards. However, because most games with fewer decks have a house advantage, the house imposes a variety of unfavourable conditions to overcome this advantage.
American Blackjack
Rather than being a single variation, American Blackjack is made up of several variants created in the United States. Atlantic City, Double Attack Blackjack, Spanish 21, Super Fun 21, and Vegas Strip are just a few of the most well-known and popular variations played in live casinos around the world.

There are a few casinos and online casino sites that offer standard American Blackjack games. Most games use their own unique side bets and minor rules tweaks or otherwise follow the subtypes listed above.
The Rules
Played with either six or eight decks of cards.
Dealer stands on soft 17.
Dealer peeks for blackjack on 10s and Ace.
Double down on any hand total.
Double down after splitting
Pays 3 to 2 on Blackjack.
Split is allowed up to three times, for a total of four hands.
Ace are allowed to split only once.
Surrender is allowed.
American Blackjack and its House Edge
When compared to other types of blackjack, American Blackjack has a lower house edge due to its player-friendly regulations, such as the ability to double on any hand total and late surrender. Most of these favourable rules are countered by the larger decks added to the game, usually six or eight which raises the house edge significantly and makes it more difficult for card counters to exploit or for the coveted "Ace rich decks" to appear at random.
Conclusion
When it comes to options available, American Blackjack's rules are far more player-friendly. When our hand isn't favourable, we can surrender, double down on any hand, and divide hands without limits.The hole card is easily the most advantageous rule. As previously stated, dealers in American blackjack look for a natural blackjack before players make any wagers, preventing us from wasting more money on double downs or splits and allowing us to play more aggressively, with more confidence behind each move.
Despite its American blackjack advantages, European Blackjack is still a really enjoyable game. The usage of a double deck lowers the house edge and makes it more appealing to skilled card counters. Card counters beware that some games use an automatic shuffler to shuffle the cards after each round of play. This is a card counter's worst nightmare, as it makes keeping a fair estimate and count of each nearly impossible.
You have strengths and limitations no matter which version you play, but American Blackjack has a better chance of winning.