Blackjack Neo is Available at these Casinos
There are many blackjack games available in any online casino, but you can always rely on the new game Blackjack Neo to lighten the mood. Let's see what these casino gaming gurus at Relax Gaming have cooked up for us with this modern, mobile-friendly game.
Relax Blackjack or Blackjack Neo is an online classic version of the blackjack game. Like any blackjack game, the goal is to hit 21 or as close to it without going bust. The game comes rich with cool features such as the Best Move Indicator. This algorithm is a product developed by Relax Gaming to assists players using blackjack basic strategy.
The game developer Relax Gaming is a popular casino gaming company that specialises in B2B casino games. It offers a growing portfolio of unique and innovative content to deliver the highest quality possible in these games. They have created Blackjack Neo with modern graphics and artwork that makes the game looks nice and appealing.
The game is based on the traditional blackjack where the total value of your hand is the sum of all cards that you have. Like every blackjack game, the cards' values from 2 to 10 are worth their face value whilst Jack, Queen and King are worth 10. An Ace is valued 1 or 11, depends what leads to a higher total score without going bust. The game has an RTP of 99.6%.
Game Rules
The game rules are very easy to follow since the game is a traditional multi-hand blackjack game. Blackjack Neo is played with a shoe of four 52-card decks. Joker cards are not part of the deck. Like many other Blackjack games, the dealer must stand on 17 or higher. In case the dealer has a total of 16 or lower, the dealer hits.
When your hand have two cards of the same value you are only allowed one split. Doubling down is allowed, even if you used card splitting. In case you get a Blackjack the game pays 3 to 2. Unlike some some Blackjack games, Blackjack Neo does not allow surrender. It is important to note that Blackjack Neo follows the American style of play. This means that the dealer can peek when the first card is an Ace.
What is Best Move Indicator™
A great feature which is part of Blackjack Neo is the Best Move Indicator. The Best move indicator feature assists the player by showing which is the best mathematically option to choose every time you have a choice. This great feature will increase the probability for the player to win. The best move is shown to the player by a coloured line under one of the game buttons during an active round. This Best Move Indicator feature follows the blackjack basic strategy.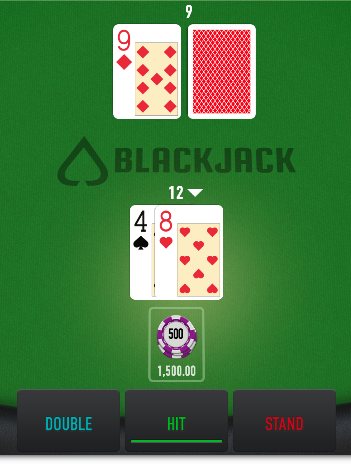 How to play
Start playing by choosing a bet. Since it is a multi-hand blackjack you have three options where to place it. You have the option to play with three hands by placing 3 bets, using the boxes in front of you. Bets available are 1, 5, 25, 100 and 500. In case of a mistake, you can undo your last bet by using the undo button. If you wish to double your bet press the 'Bet 2X' button when available. If you select 'DEAL' the game starts.
You are dealt with two cards in each active box where you have placed your chip. The dealer starts by getting two cards, one visible face-up and one card laying face down on the table. The total value of hands is visible above the cards.
While playing, you can choose from the following options:
Stand: Do not take any more cards. Selecting this button means you end your round.
Hit: Draw another card. You can draw as many cards until you bust, which means you lost.
Double: Double your bet. When you Double your hand you get automatically one more card. If you lose, you lose everything, both the original bet and the added bet. After you double your turn ends.
Double Dark: Increase game anticipation by letting doubled cards be revealed last.
Split: Card splitting is when one hand becomes two. This means both hands will also have to have the same amount of bet.
Insurance: If the dealer gets a blackjack, you do not lose.
Even money: If the player has a blackjack, the option for "Even money" appears. If the player takes even money, they are paid 1:1 on their blackjack, regardless of whether the dealer has a blackjack or not.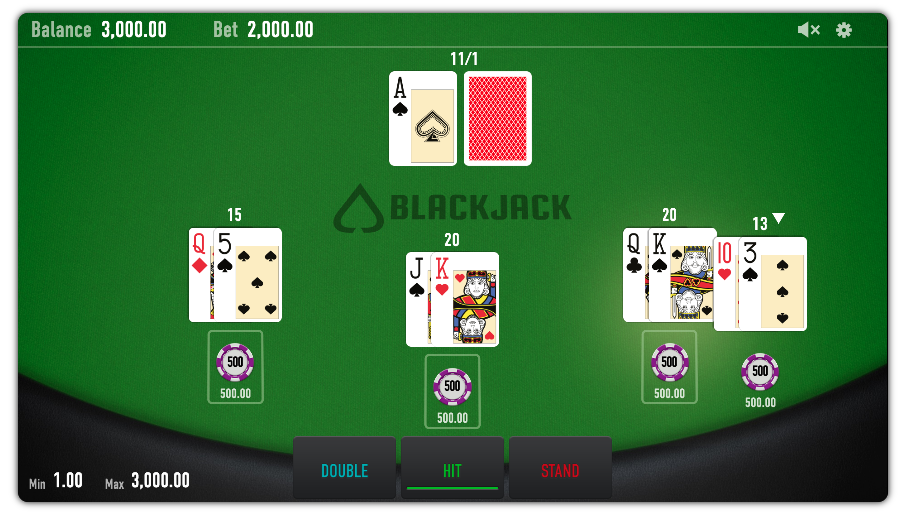 If you like this game review and would like to play this game using real money, it is available at the below online casinos.